Jim "the Modified Fisherman" is in the Home Waters house as a guest blogger! Enjoy!
My First Trout Trip of 2016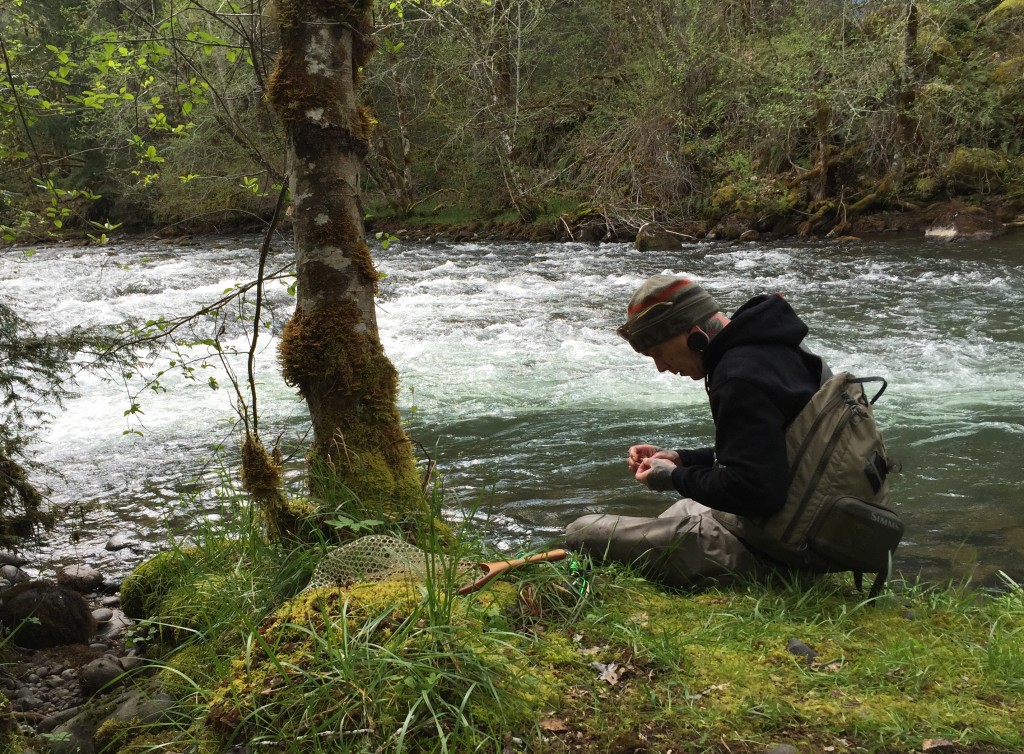 I'd like to start with a short introduction about myself. I've been fishing my whole life and have always wanted to learn about fly fishing. Then one day about three years ago,  I woke up and decided that was the day I was going to see what this fly fishing was all about. Well, I've been fly fishing ever since and have no intention of stopping. And though I wouldn't consider myself a beginner anymore, I don't consider myself an expert either because as with all things in life, I still have a ton to learn.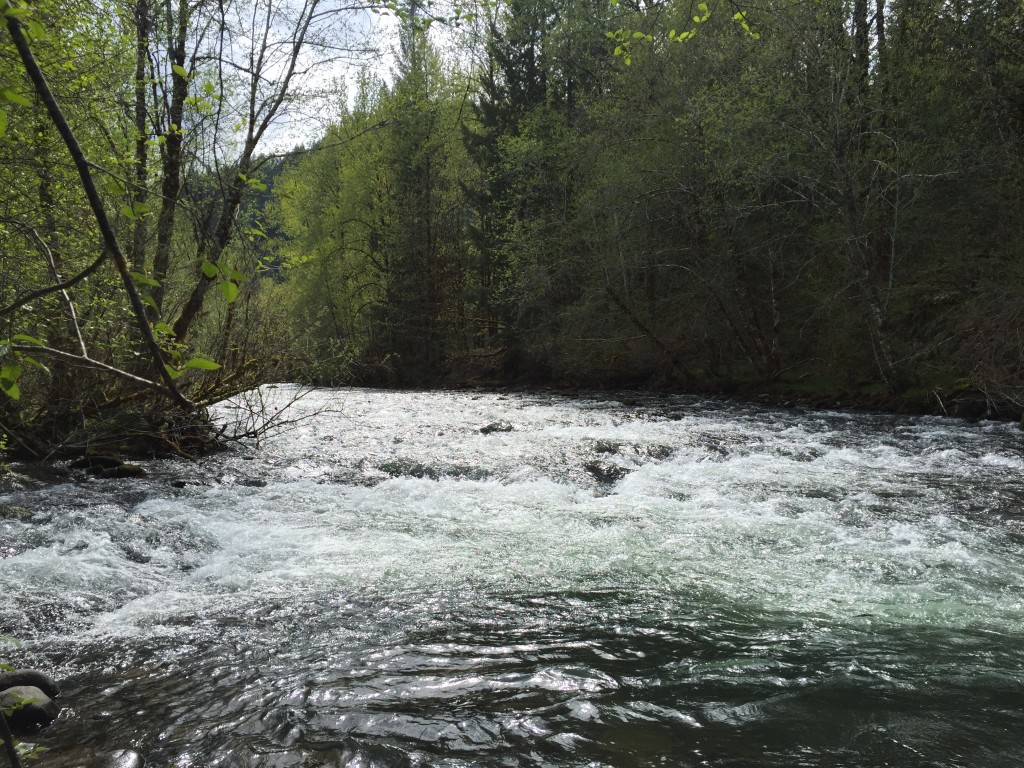 Exploring this old art form of fishing has become one of the best things I've done for myself. It has put me in even more touch with the outdoors. It has given me even more respect for the fish I catch. Hell, now I even pay attention to the bugs that buzz around my head. Instead of squishing them, I catch them just to see what they are! I'm sure there are times I look like a crazy-man hopping around the banks of the river, flailing my arms, trying to grab something that no one else can see. The color and shape of every insect I see gives me insight into what may be going on under the water that day.
Okay, on with the topic at hand. It was a beautiful Spring day in Oregon. The weather had been dry and warm for a few days so the river was ready for some much needed exploring. Anyone that has lived or visited here during the winter months knows that as soon as the sun comes out again, it's time to go outside and enjoy the very thing we live here for: The Outdoors!
One of my favorite rivers to fish is the upper McKenzie. Living in Eugene, it's a quick drive to some great trout water. I decided to check out a spot on a tributary above the Leaburg Dam. It's a nice, quiet little stretch of water and I rarely see anyone there. I'll be the first to admit I'm a fairly lazy fisherman which means I don't usually get to the river until early afternoon. The skies were a bit over cast, but the air was fresh and clean. I love the feeling of fresh mountain air on my lungs!
As I was setting up and watching the water, I noticed there weren't any fish rising, but I did see a few green drakes flying around.
I really wanted to try some dry fly fishing; I rigged up a size #10 olive stimulator with a simple wet fly that I had tied using my Corgi's fur as dubbing. She has this perfect tan color to her fur that works great to imitate tan caddis.
I made a few short casts along the shore. Nothing was there, so I softly waded in just far enough to reach a run that had a pretty heavy current on each side. My first drift through, a beautiful little 10″ rainbow hit my wet fly. The colors of a spring rainbow are always something that put a smile on my face. I grabbed a couple photos and promptly returned it to the water. Caught up in the excitement of my first fish of the new year, I forgot to dry off my dry fly. But I let it swing through the drift even though it wasn't wanting to float just to see what would happen. To my surprise, a 15″ rainbow nailed it and gave me a good fight for a few moments in the heavier current. Once I landed it, my dry fly was beyond water logged and the elk hair was mangled. Time for a rig change. I traded out the stimulator with a pheasant tail nymph and the wet fly as my dropper. I pulled a couple more smaller fish out of the hole and then it was time to move up stream a bit.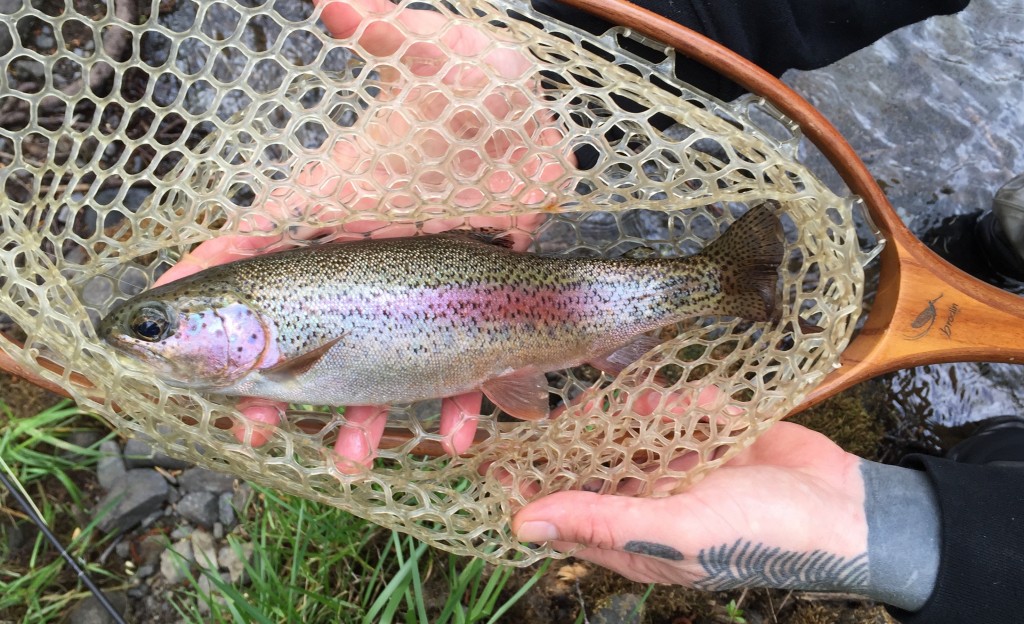 The next spot was a short drive. The location has a huge Douglas Fir tree in the water and the roots are bigger around than I am tall. It's propped across the stream by an equally massive boulder. The water was really shallow this time, so I was able to walk out onto it and cast into the bubbly water. On my first drift past that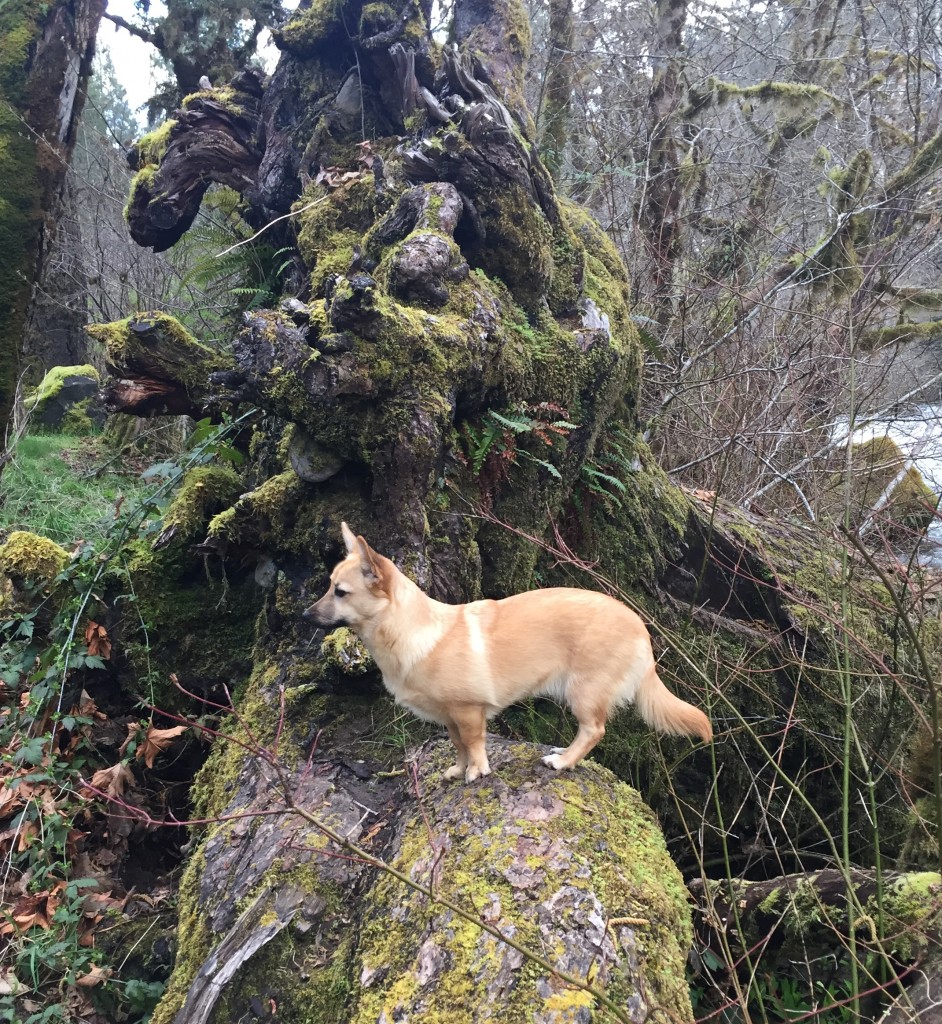 boulder, I hooked into the biggest fish I've seen on this section of the river. The water was clear enough for me to see the take. He grabbed my fly and instantly ran down river, managing to get about 50 feet before I got him to turn around. Once he was facing upstream, just above some rapids, I tried to get him to move more, but it wasn't happening on the 5x tippet I was using. The stalemate ended a few moments later when he turned his head just right to get the barbless hook out of his mouth. As he slowly swam downstream and out of my sight, my heart sank a bit. I'll be back to that spot again, maybe I'll be fortunate enough for round two with him.
I managed to pull a few cutthroat trout (my personal favorite fish) out of that same run. Then it was time to head home and tie some more wet flies for the next trip. My dog, River, is nice enough to "donate" more of her undercoat for their dubbing.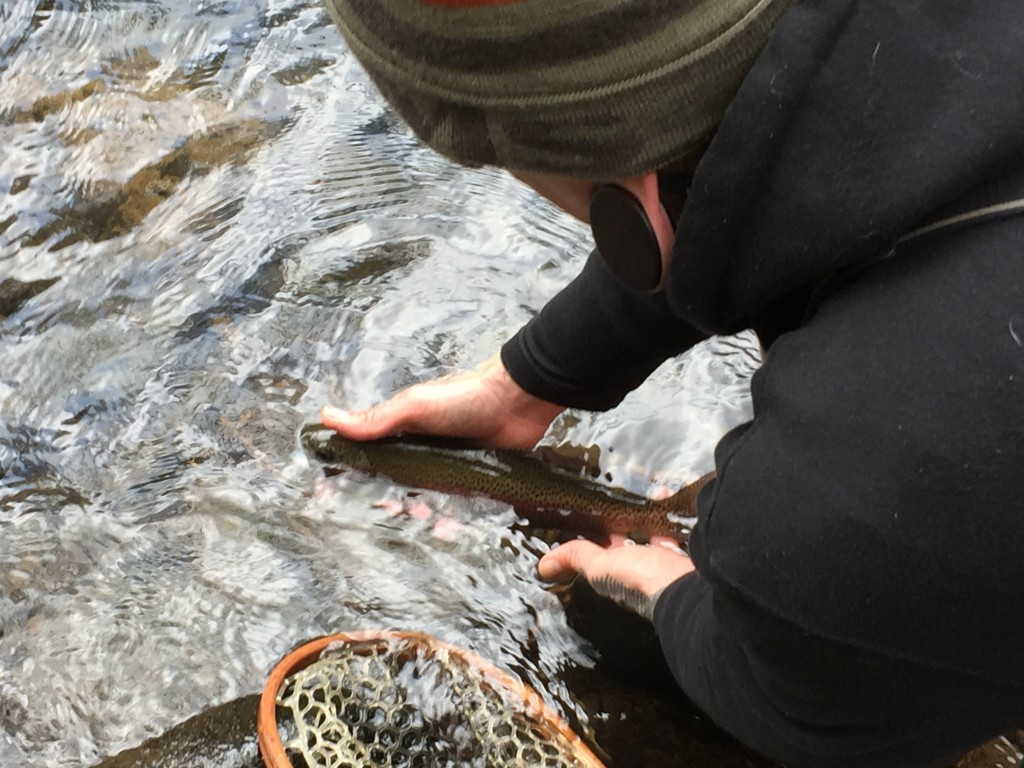 It was a great first outing of the new year. I got to enjoy a beautiful day on the river, had a couple fish let me land them, and I didn't end up going for a swim in the freezing water. I really look forward to many more adventures this year.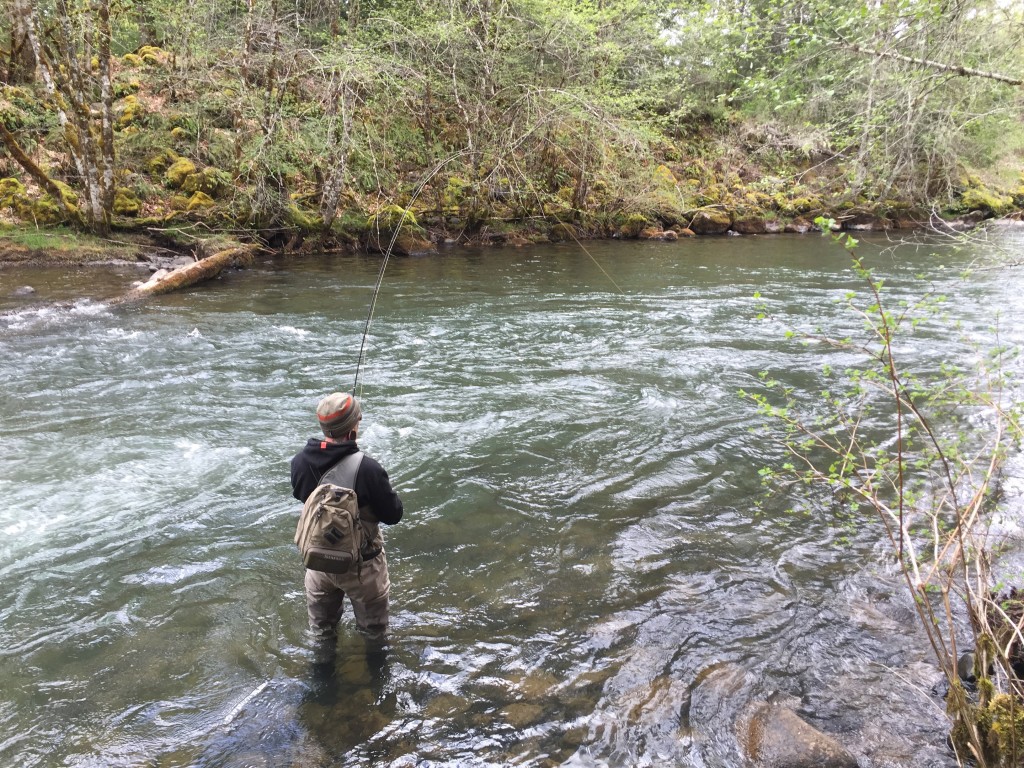 ~ Jim Sens
"The Modified Fisherman"