ECHO is a small, personable, small business-oriented company located in Vancouver, Washington. ECHO sells their rods and reels exclusively through their extensive dealer network. They believe, and we at Home Waters agree, that fly shops are the heart and soul of fly fishing. Home Waters loves that ECHO is committed to supporting local fly shops! We carry their full line of rods. Below are a few of our shop favorites and best sellers!
Trout X: $399.99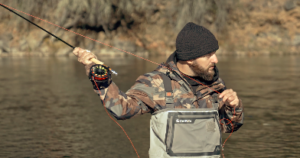 New for 2023, the Trout X is the end product of thinking outside of the box when it comes to rod designs. Using their Variable Sweet Spot technology, ECHO developed a line of five unique rods that load and cast at any distance. The lightest rod ECHO has produced to date, the Trout X is designed with the advanced caster in mind. It maximizes the rod's wide range of optimal casting distance, improves accuracy in the 30′-50′ range, and handles wind like a dream. The new shop favorite for either the McKenzie or Willamette, come in and cast one today.
Shadow X: $459.99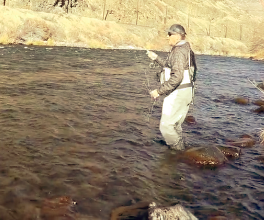 ECHO worked with veteran Euro Nymph guru Pete Erickson, 2018 fly fishing world champion Norm Maktima, and expert Mariusz Wrobewski to create a rod that is dialed-in to perform at the sport's highest levels. By using the most advanced high modulus graphite available, ECHO designed and built the lightest rod they have ever produced.  When you need to feel every nuance happening under the water, having the lightest, most sensitive rod you possibly can is the difference between out fishing your buddies or coming back skunked!
Indicator: $279.99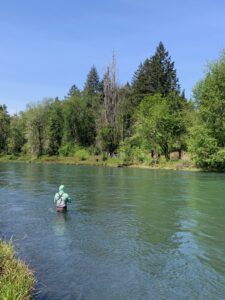 A drift is only as good as your control over it.  With its 9'6″ – 10′ length and responsive action, the ECHO Indicator is designed for maximum line control to set up those long, drag-free drifts. There's a lot more to cast with nymph rigs vs conventional dry and wet fly fishing.  The Indicator rod is designed to load in to its powerful lower sections to give added power when needed.  Whether roll-casting or casting overhead, there is ample power and recovery to get those heavy rigs to their target.
Boost Fresh: $229.99

Built upon the original Boost series, The Boost Fresh is built for anglers with an aggressive casting stroke to achieve maximum line speed.  The rods have shed some weight and actions refined to help you feel the rod load. The Boost is produced from a blend of intermediate modulus graphite fibers giving it the optimal blend of strength and performance. The choice in material allows maximum performance at an affordable price. The Boost is the perfect rod for aggressive casters who can't live without that modern, fast-action rod feel.
Trout Spey: $524.99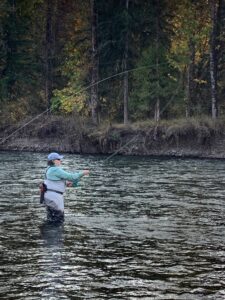 ECHO's Trout Spey is specialized for when the bugs aren't hatching and you want to cover the most amount of water with a sub-surface presentation. The Trout Spey is light weight and dialed for far more than just two-hand swinging with Skagit and Scandi heads:  Flick an emerger off the tip, mend a country mile of line with an indicator nymph rig, tight-line nymph, fish a dry fly hatch, and anything else you may find yourself needing in ever-changing trout fisheries. Especially suited for our home waters of the McKenzie or Willamette River, this is a must-have rod for any serious, 4-season trout angler!
ECHO Prime: $499.99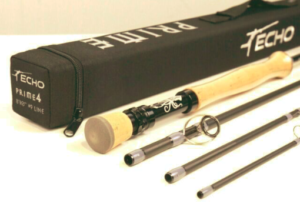 If you ask around, the ideal saltwater rod is one that will help you hit your target with the minimum number of false casts. When targeting flats fish, things happen quickly and usually in the 40 to 60 foot "kill zone." Everything about an ECHO PRIME rod has been optimized to help you succeed in the zone. Its easy-loading tip section and condensed 8'10" length set it up to cycle through the cast quicker with less effort. Modest power levels enhance feel during the cast but don't give out on long shots. From the lightweight guides at the tip of the rod, to the multi-zone handle shape, to the no pinch point fighting butt, every inch of the rods has been engineered to help you get the fly to the target and help you when you get the grab.
ECHO Traverse Kit: $269.99
Not all serious anglers want to shell out the "big bucks" for a complete setup.  So ECHO developed the Traverse Kit for those looking for a complete, ready-to-fish, high performance, budget-friendly rig. ECHO designed the Traverse Rod as an exclusive for this kit.  Its "do it all" action, impressive componentry and good looks all tie this incredible package together.
ECHO Lift Kit: $189.99
An excellent entry level kit rod! The ECHO Lift Kit is medium action rod in a four piece travel design that comes with a fabric-covered rod & reel case. The rod comes with chrome guides, cigar-style grip, and a black anodized aluminum reel seat. ECHO includes an ECHO Base impact-resistant resin frame reel. The kit comes with the standard ECHO warranty/12 month limited warrant on the Base Reel.