Introduction to Fly Fishing: Basics of Fly Fishing & Casting with Will Conable and Carolyn Mason: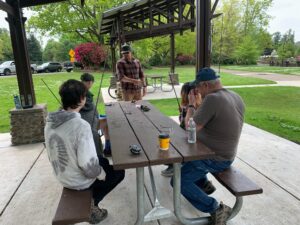 Introduction to Fly Fishing is a 6 hour class specifically designed for beginners. We offer the course 5 times from May through September. Our next course takes place from June 11-12, 2022. The course takes place over a weekend. The first part is in-class learning at Home Waters Fly Shop. In the class, we cover the basics of rods, lines, reels, and general fly fishing principles. The goal is to provide each student with enough knowledge to fish with confidence. Day two of the course takes place on Sunday morning. We will meet at Alton Baker Park for hands-on learning. Over the course of 4 hours we will cover: basic rod and reel set-up, common knots, safety, casting, and the basics of landing a fish on a fly rod.
Introduction to fly fishing does not require students to have gear or experience. Our instructors provide all the necessary gear to learn how to fly fish.
Cost is $75 per student. We limit our class size to 8 persons in order to maximize student-to-teacher ratios and provide our clients with an ideal learning experience. Our courses fill up fast! Please call or visit the shop early to reserve your spot!