On Saturday night, another buddy of mine and I decided to head west super early the next day. Dawn patrol probably isn't most people's idea of a relaxing day-off (since there's no sleeping late), but when winter steelheading is involved, things are different.
We knew it was going to rain and rain it did. In fact, it rained most of the day only to change into that saturating mist the PNW is known for. Perfect river priming for steelhead, if you ask me. We checked out a few spots and overall, the entire morning was uneventful. But since I was testing out some new gear, I didn't really mind. My friend may not share that same sentiment, but a new running line and head on my new reel, and new soles on my Korkers kept me well occupied while the fish variable was missing.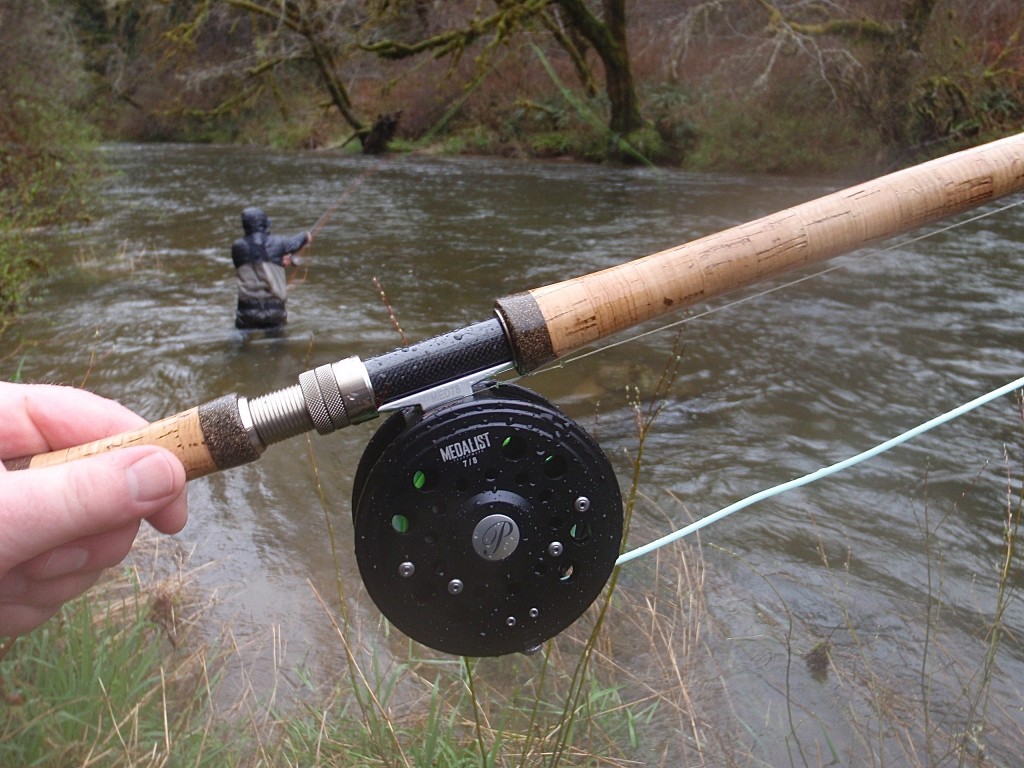 Now about those soles….I switched out my Korkers Studded Kling-on Soles for their Vibram Studded Idrogrip Sole. Um, they're rad! The space pattern between the lugs makes them super grippy. Not only did I feel safer in the river and on the rain soaked trail, but I felt as though I could walk up a basalt cliff. I'm pretty happy with them.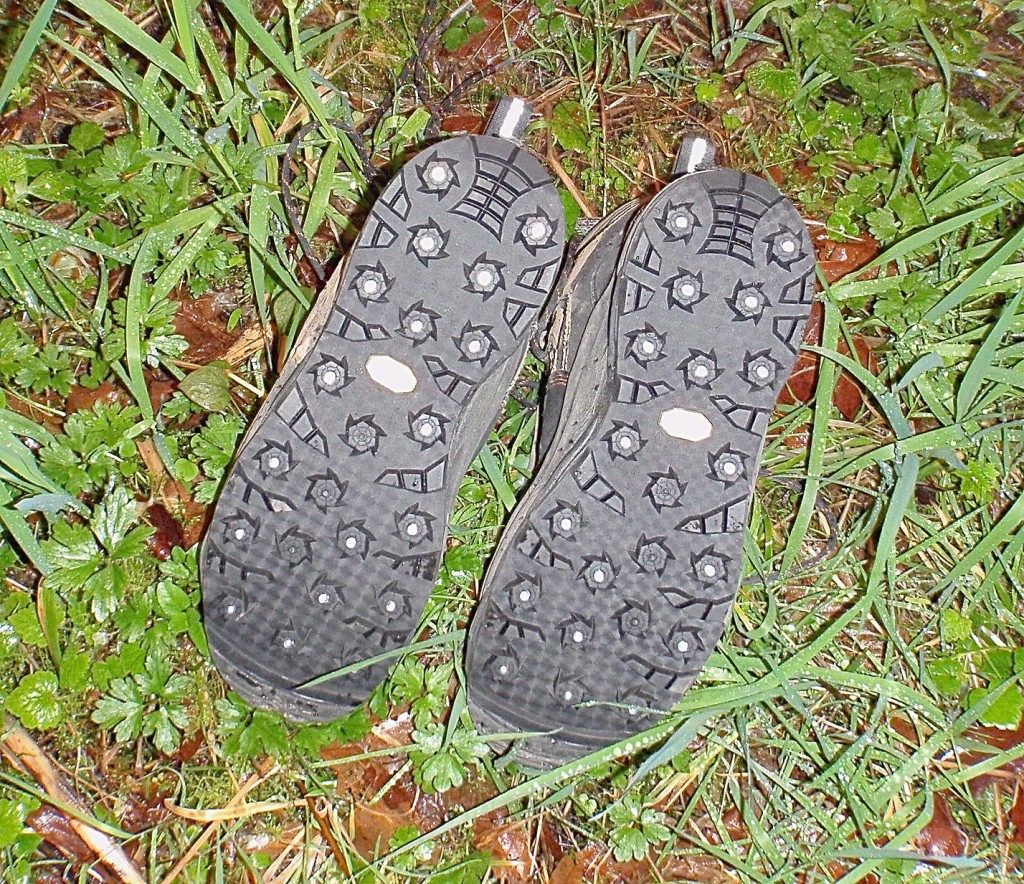 The new 40 lb OPST Lazar Line was a little coily in the morning but that's somewhat expected with a new line. It mellowed out after a bit and that was that. This line picked-up off the water easily which meant I didn't have as many loops to manage, making a tangled line less likely. Overall, I really like this line so far.
The OPST Commando Head is awesome and is a lot softer than the 450 Skagit switch head I had on before. It lays down in the water real nice and because it's a lot shorter, I could sneak it underneath some overhanging trees and shrubs pretty easily. It only took working the first run for me to get my cast dialed-in and when I did, I finally knew what everyone was talking about. It's pretty cool.
We continued to motor and hike along the river, checking out new spots. At one stop, we hiked for quite a ways only to discover the water wasn't worth fishing because it was too fast and we were on the wrong side of the river. It was kind of a bummer because not only did it eat up about an hour, but we were also getting into the afternoon without having had any opportunities at fish. But that's all part of the adventure.
Towards the middle of the day and after doing some more exploring, I finally got a grab, but that was it. We worked the spot over well but didn't get anything to stick, so we moved on.
Our second-to-the-last stop of the day was a spot I had some luck at a couple trips ago. My buddy took the top section and I started in the middle, working my way down to the tailout. About half way down and as my fly was swinging across a current, my line went tight and I had a fish on. I hooked a small hen and heard the new Pfleuger Metalist drag for the first time. Got to love a click and pawl reel. No jumps from her, just a of couple runs. I was able to get her close to me and my friend was able to take a few pictures. Finally, a fish! Yesssss.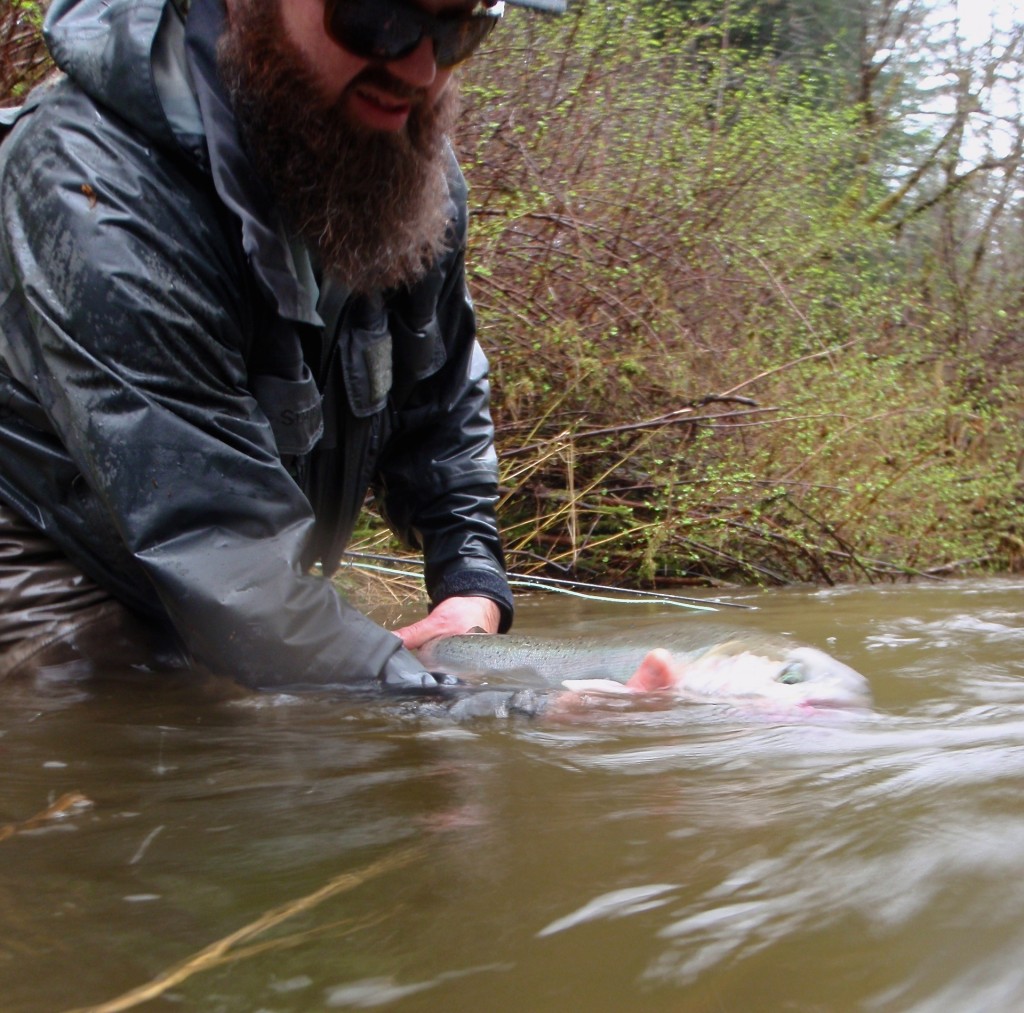 We went to our last spot to close out the day. My buddy didn't fish (falling in the river will make you cold, ya know) but I did. After fishing for about 15-20 minutes, I could feel a nibble, nibble, nibble on the end of my line. Of course I was hoping for my reel to start screaming, but it actually turned out to be a sea run cutthroat. That was a nice surprise because it was the first one for me this season and I actually missed not seeing them. So that was cool. No pictures unfortunately.
Still on the same run, I cast across a submerged gravel bar and had my fly swinging across it when my fly got hammered. I lost count how many times the fish jumped but it was a lot and my running line overran a little bit. Thankfully, it didn't jam up and I was able to get some line back on my reel. While I was backing-up into a soft spot, I tripped over a rock and fell backwards. So there I was, just kind of floating on my back for a few seconds while somehow managing to keep the line tight. I stood up and was able to land what turned out to be a nice buck. By the way, having my wading jacket on kept a lot of water out of my waders. :: two thumbs up ::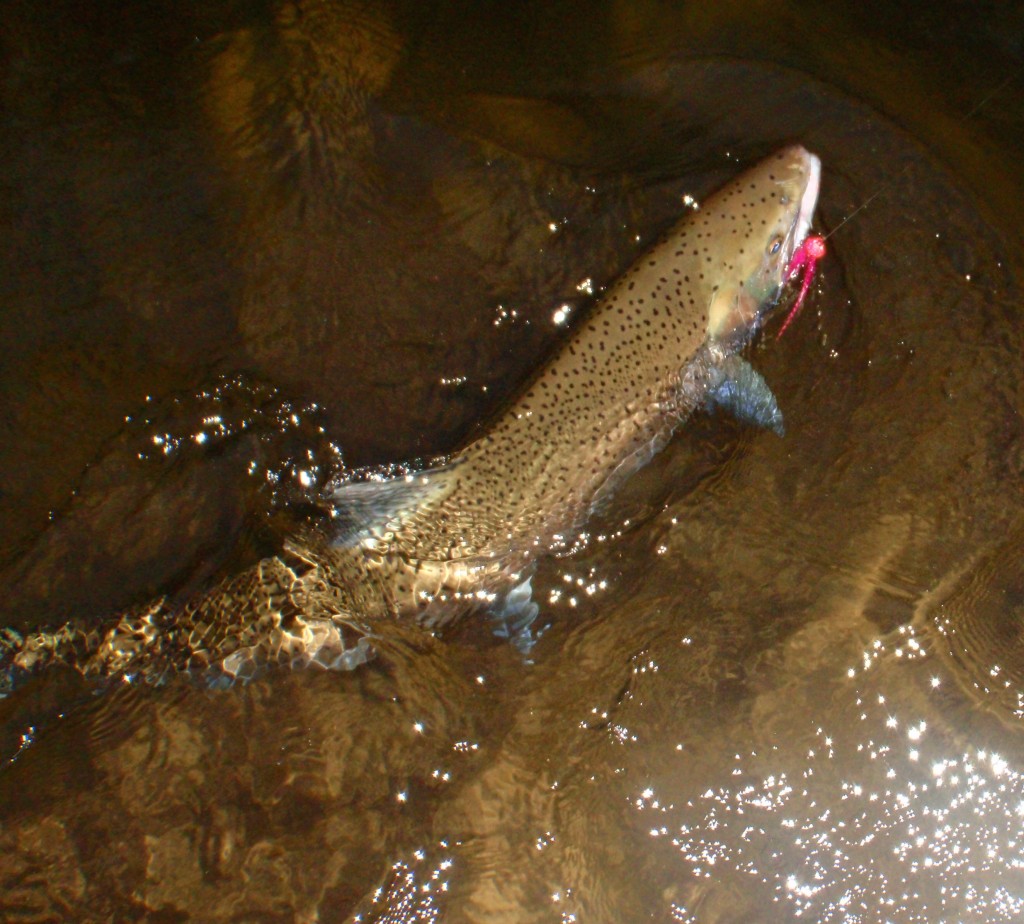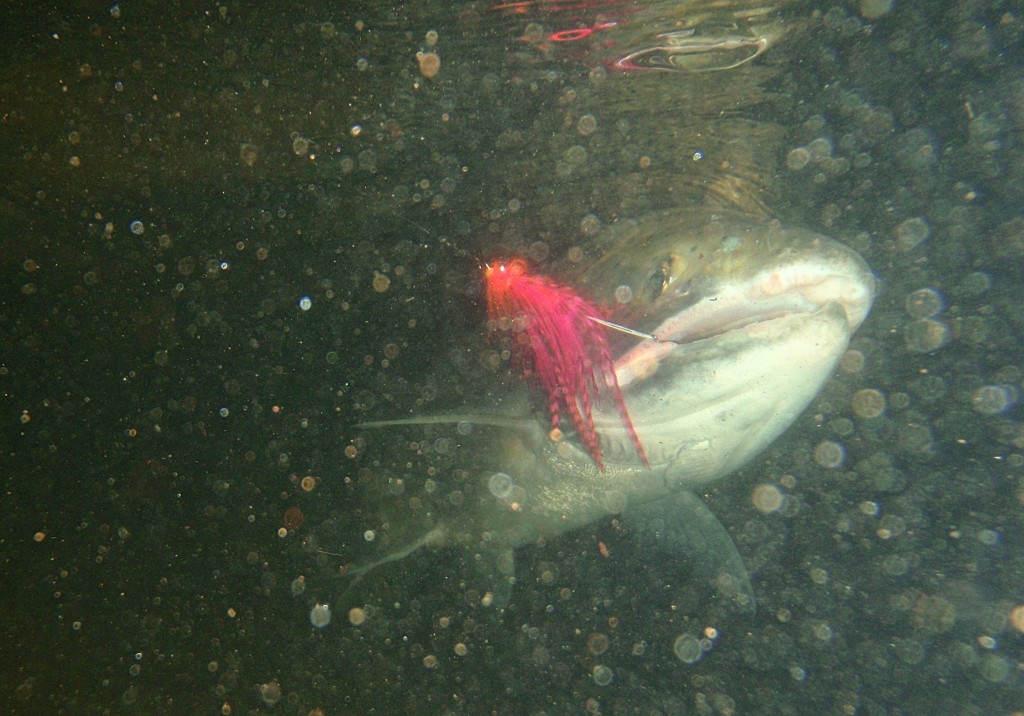 I snapped a few pictures, said my thank you and let him go. Good stuff.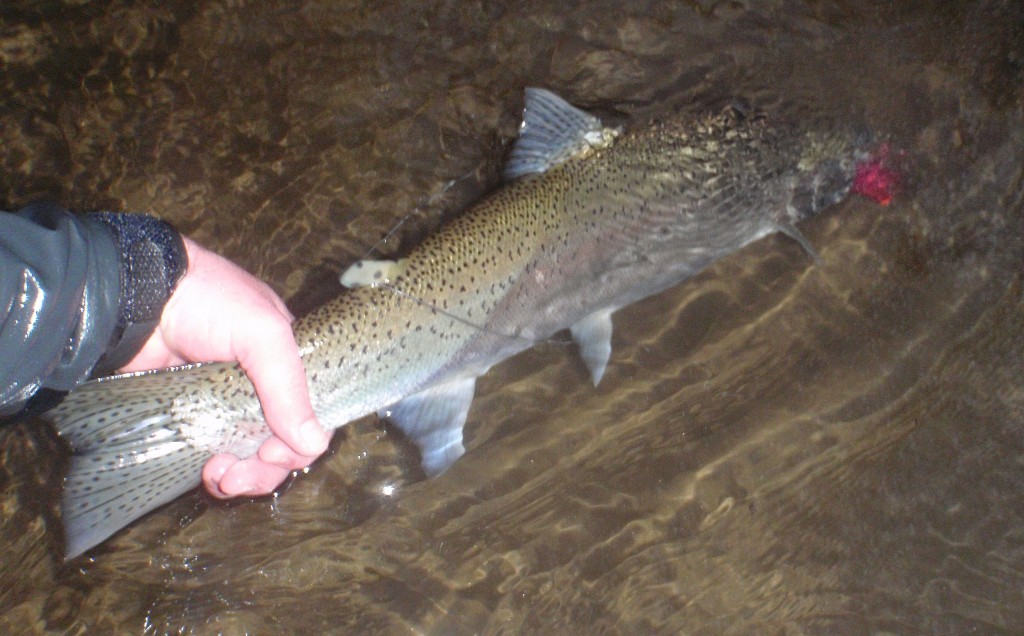 That buck made for a nice way to end my day. I changed out of my waders, grabbed a beer, and hung out for a bit with my friend before we headed home. I had another nice day on the books and like always, was feeling grateful for quality time with a friend, the opportunity at some fish, new gear to test out, and of course this wonderful state of Oregon.