This summer has been pretty great. The shop's been busy, the US killed it at the 2016 Rio Olympics, our Home Waters softball team won their summer league and Sunday fishing has been on the regular.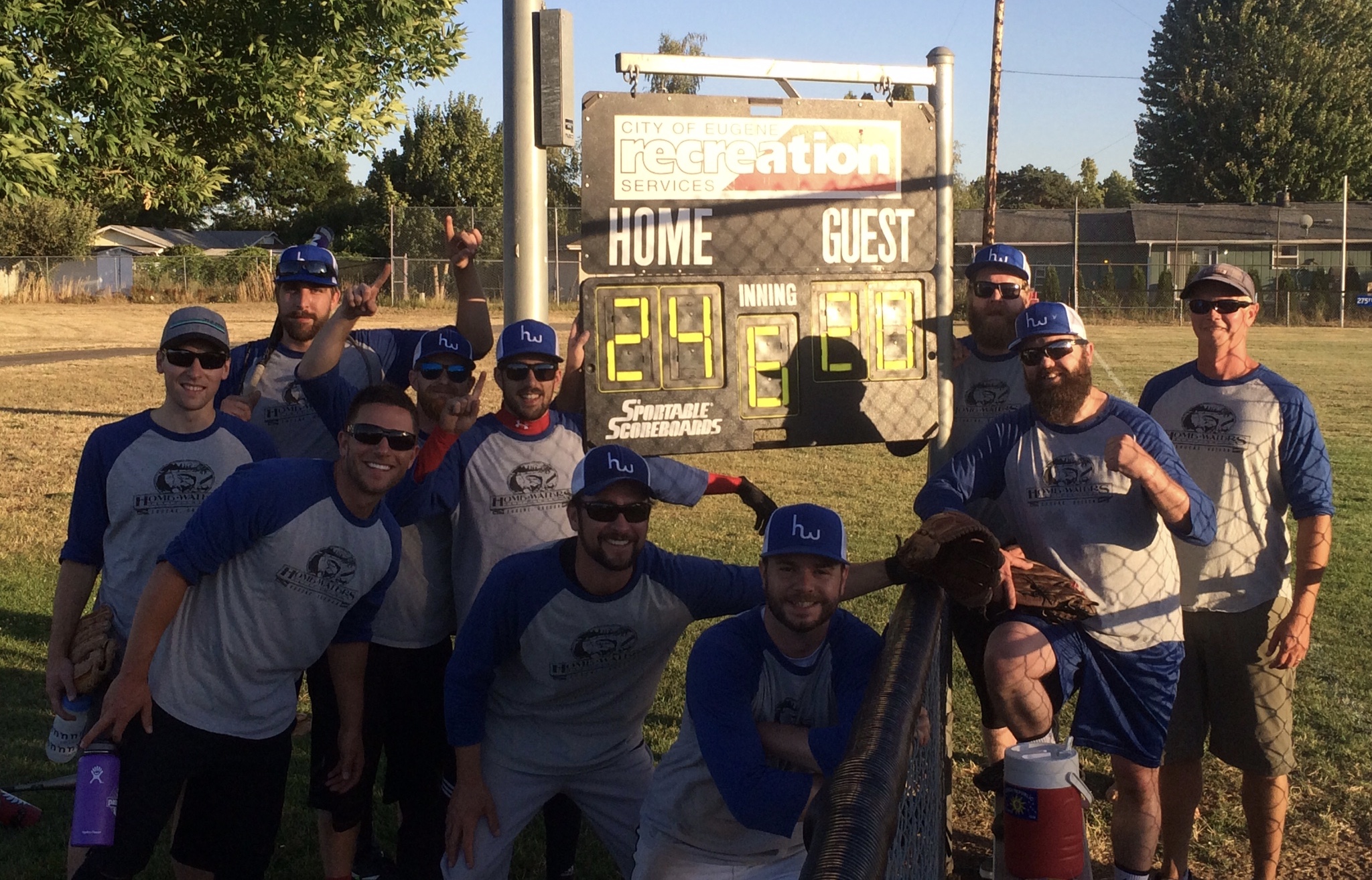 Throughout the summer we've floated the McKenzie and Willamette multiple times, and there's been a few trips down to the North Umpqua. We also had a nice visit from Jason's family which included a little fishing at Black Butte Ranch and a few hours spent on Leaburg Lake successfully teaching the older nieces how to fly fish.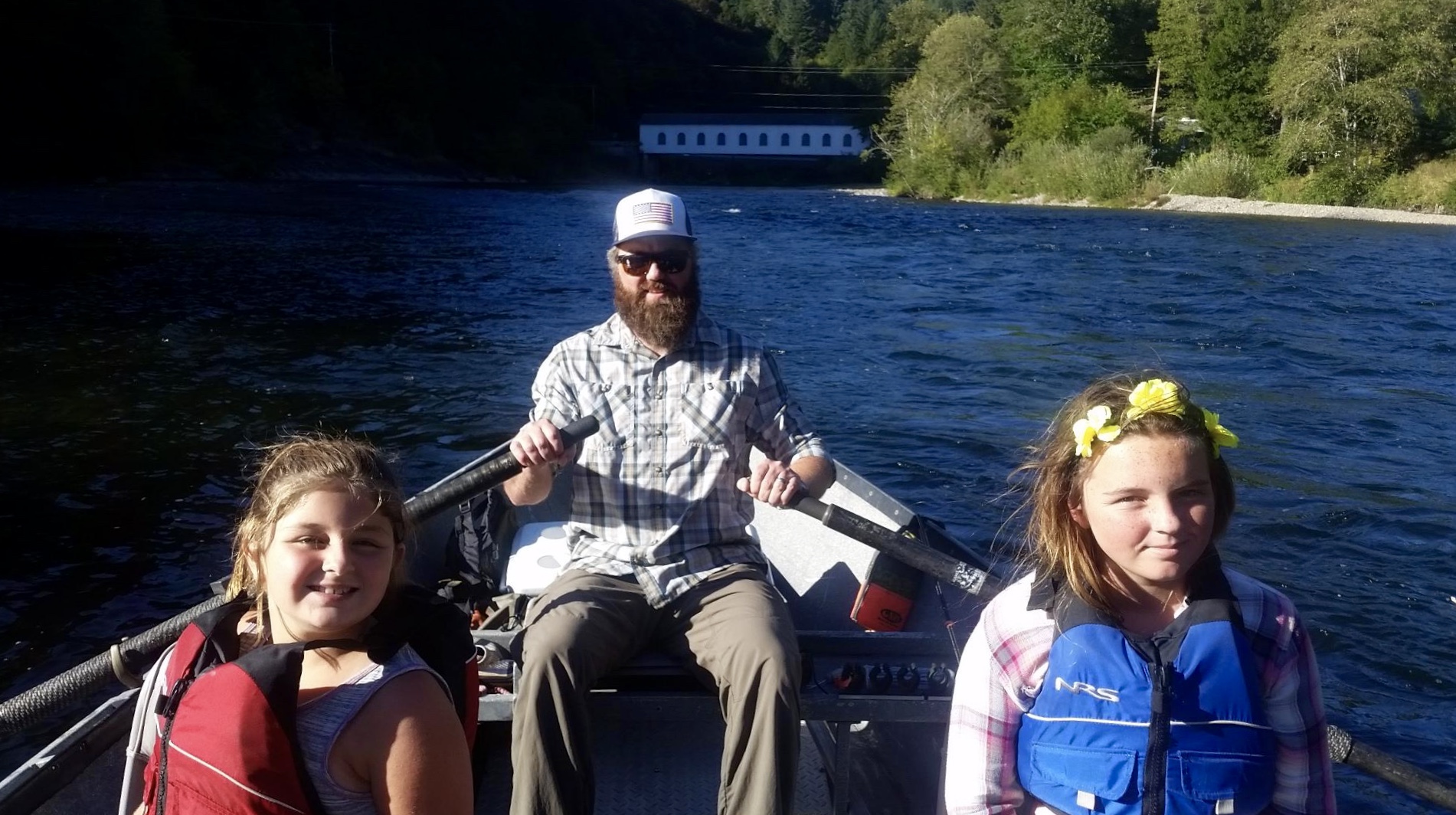 He was also able to squeeze in a McKenzie River rafting trip with most of his family while I stayed at the shop. So much family fun!
With summer winding down and the family on their way home, we decided to hit up Gold Lake for the day. After all, we hadn't been since June 2015. We left Eugene around 6:30 am and about 2 hours later were on the water. While launching the boat we ran into some folks we know from the shop. We visited for a few minutes, swapped fly advice and floated out onto the lake. The weather was perfect—chilly in the shade, warm in the sun and getting warmer by the minute.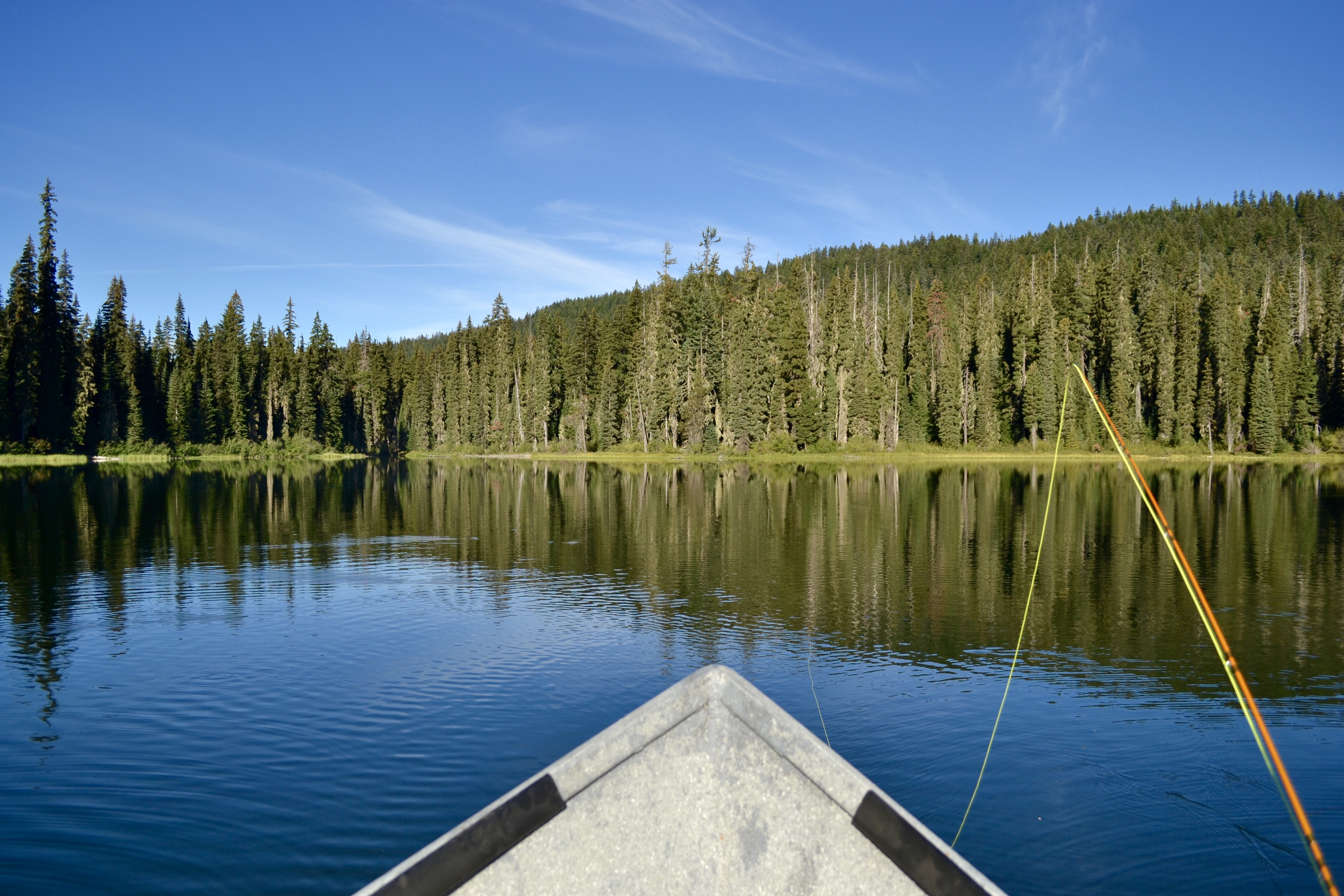 As  soon as we got out onto the lake, fish were rising and that unspoken contest of who will catch the first fish had started. No more than 10 casts in, Jason caught a nice rainbow by stripping a leech. I may have lost the "first fish" game, but having a fish landed in such a short amount of time told us today was going to be a good day.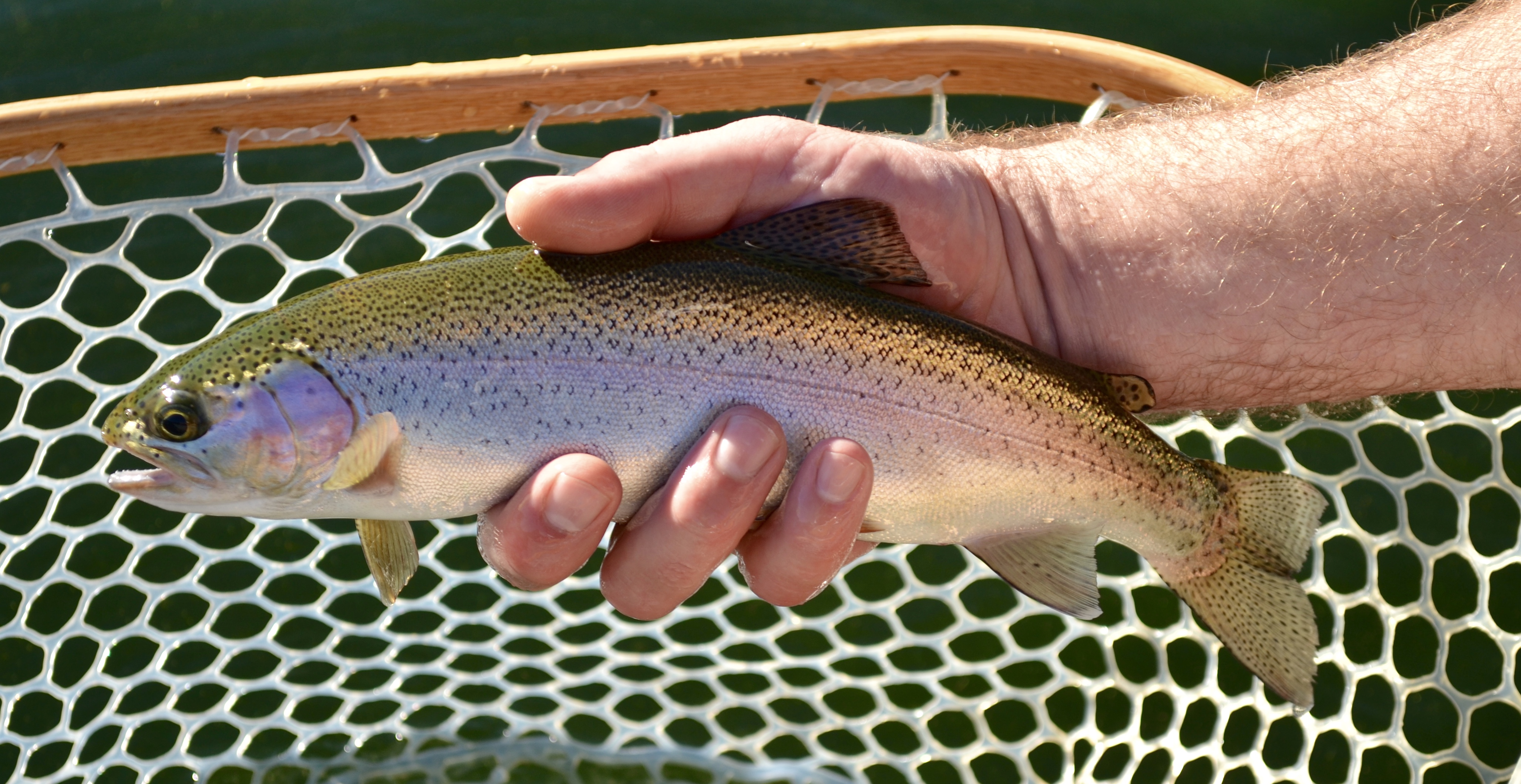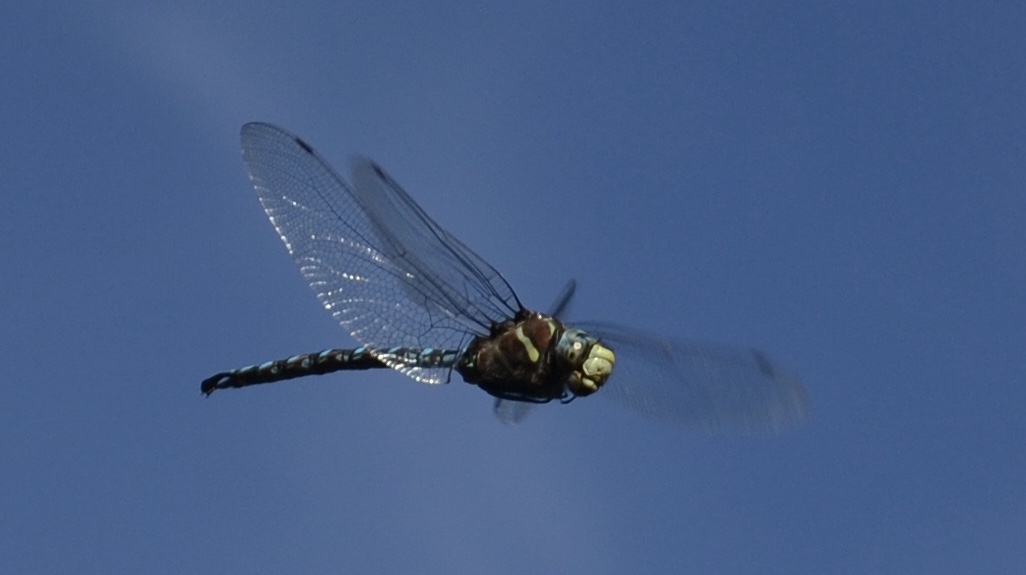 We  worked one of the lake edges for a bit while a couple large dragon flies protected us from some giant forest hornets. Thanks, dragon flies! After having limited success on that side, Jason decided to move the boat to another part of the lake. He skirted the end and then at a rather quick pace, started to row up the middle. We both kept our lines in the water and about 7 minutes later my black and red wooly bugger got hammered by a brook trout. I'm certain it's the largest and most beautiful fish I've ever caught. I also think it was the biggest fish of the day though Jason might have something to say about that.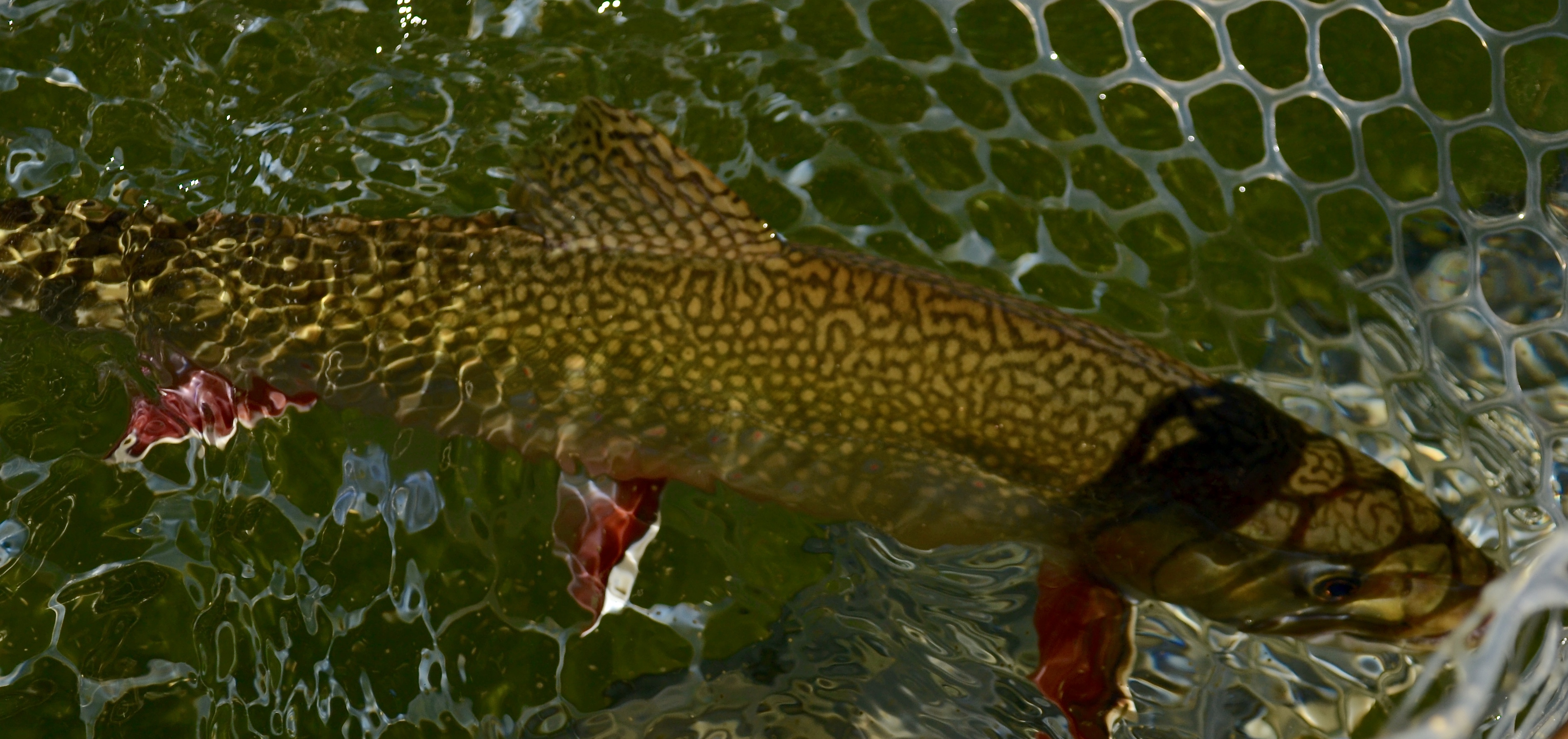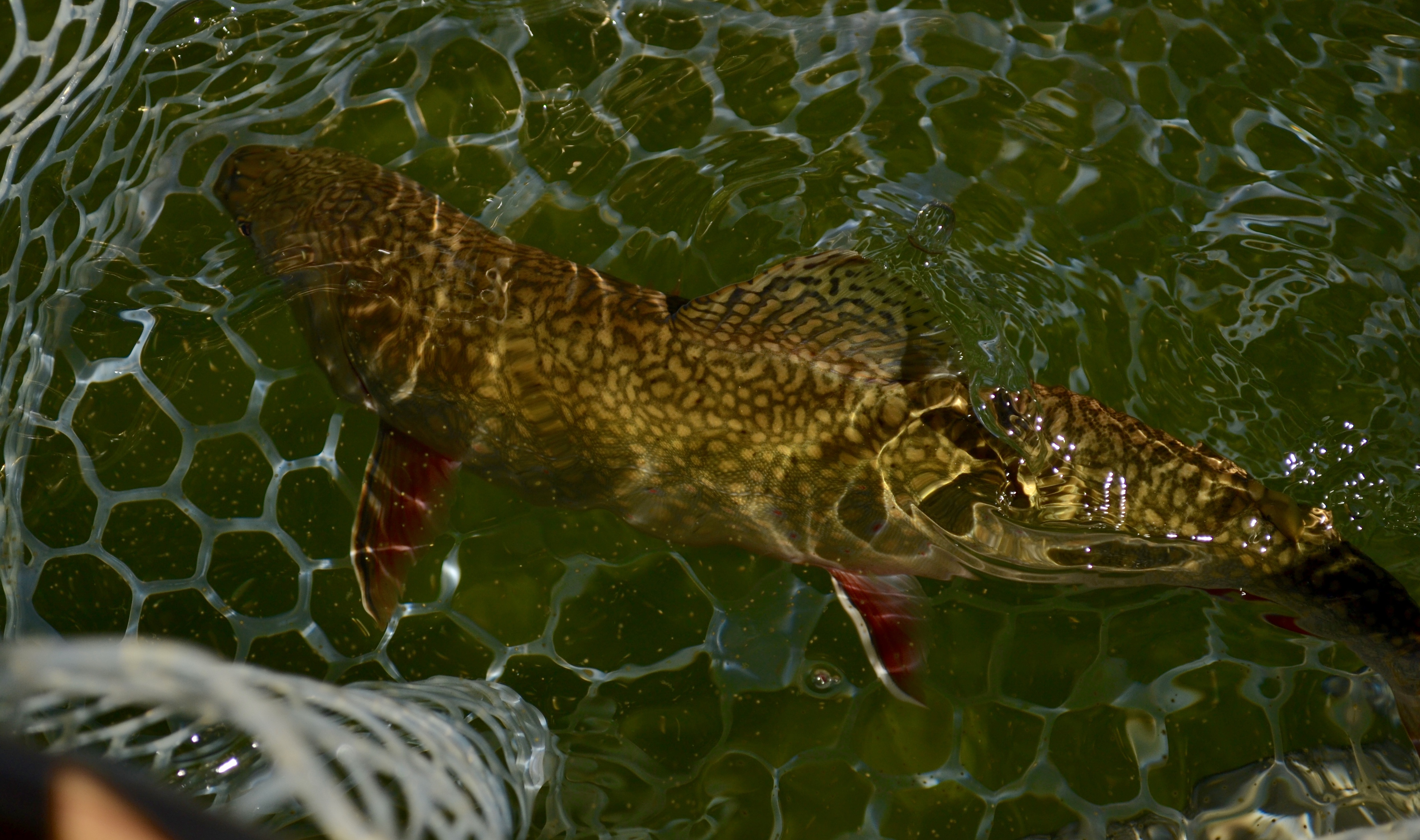 We  continued to fish throughout the day, taking full advantage of a couple pre-game purchases: a wind-sock and lake anchor. The wind sock slowed our drift a lot when the wind picked up here and there, making a huge difference in our day, and the lake anchor is much easier to pull up off that soft bottom.
It ended up being a pretty toasty day on the lake, but nothing unbearable that a cold beer and mister couldn't remedy.  I took a few breaks to do a little lounging, read my Sunset magazine and enjoy the scenery. Jason of course had his line in the water the entire day, catching a nice mix of rainbows and brooks while stripping in wooly buggers and leech patterns.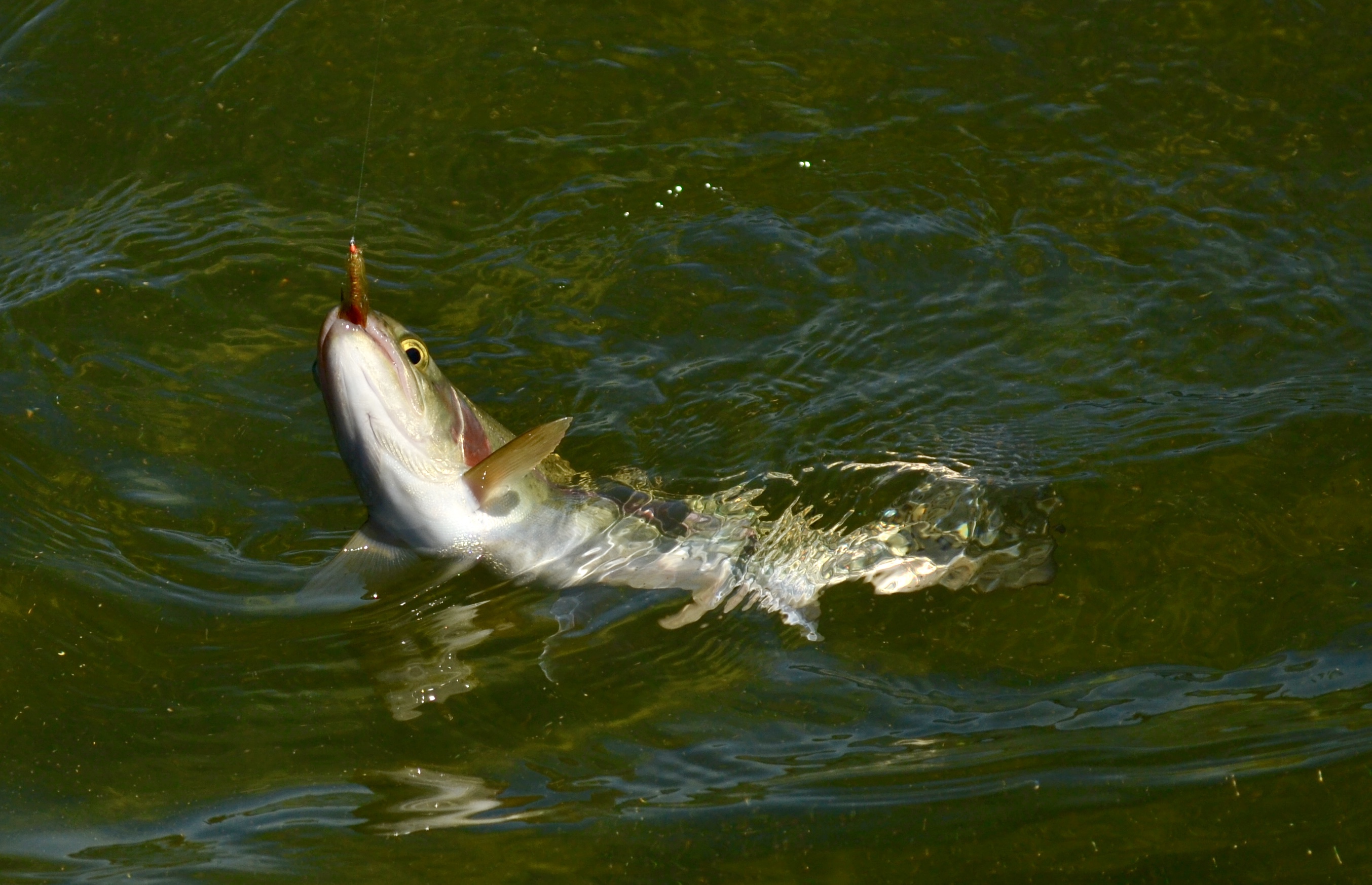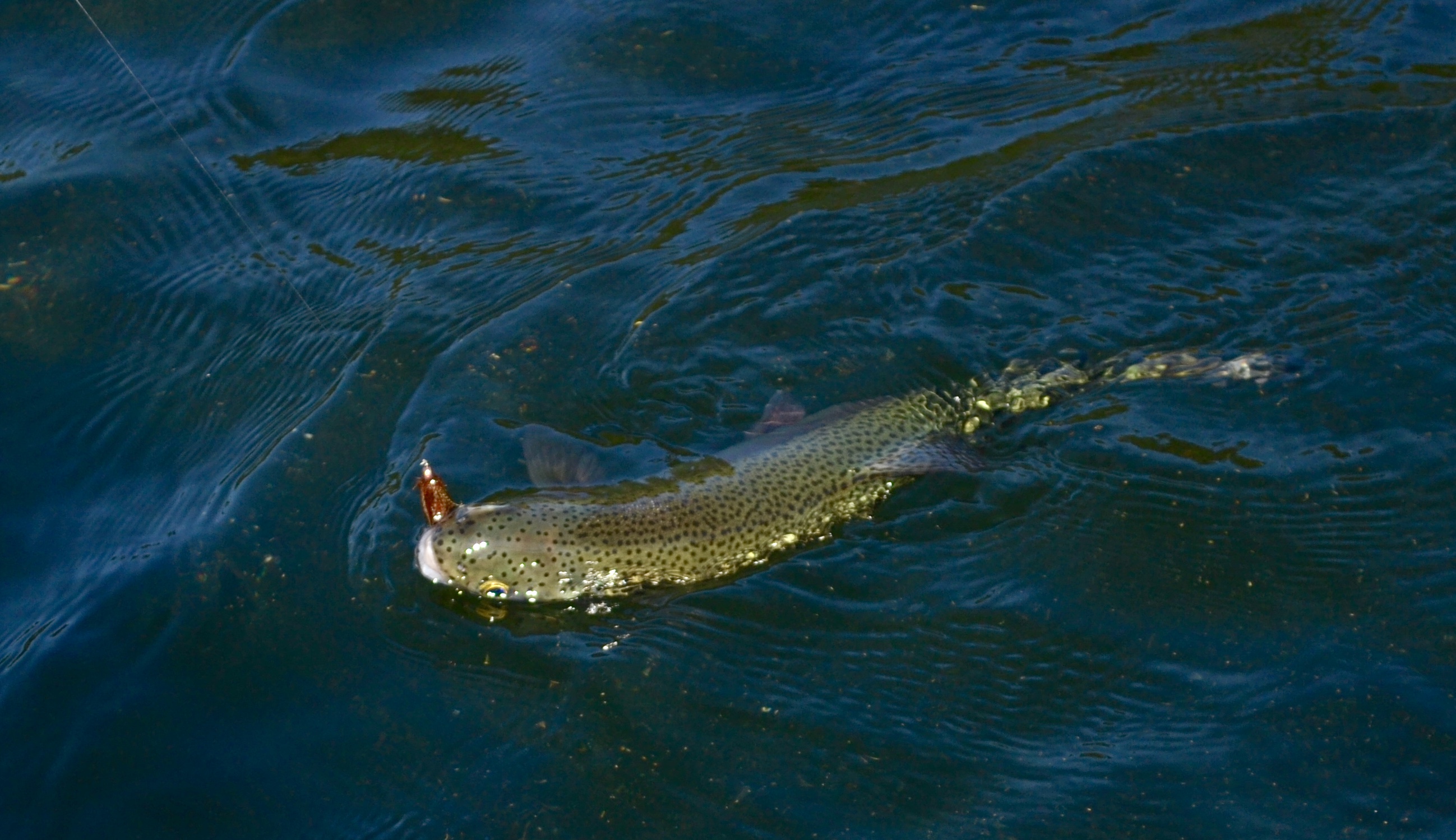 Towards the latter part of the day we worked the ledge on the other side of the lake. Our friends from the shop said they had some luck there with brookies of varying size and black ants seemed to be the ticket when the wind picked up. I caught a micro brook on a black ant and had multiple fish check out my fly. Jason tried an ant with limited success and switched back to what had been working for him all day—stripping in a leech pattern. Unfortunately, he missed a few fish. But he also landed quite a few, one of them being a real nice brook trout.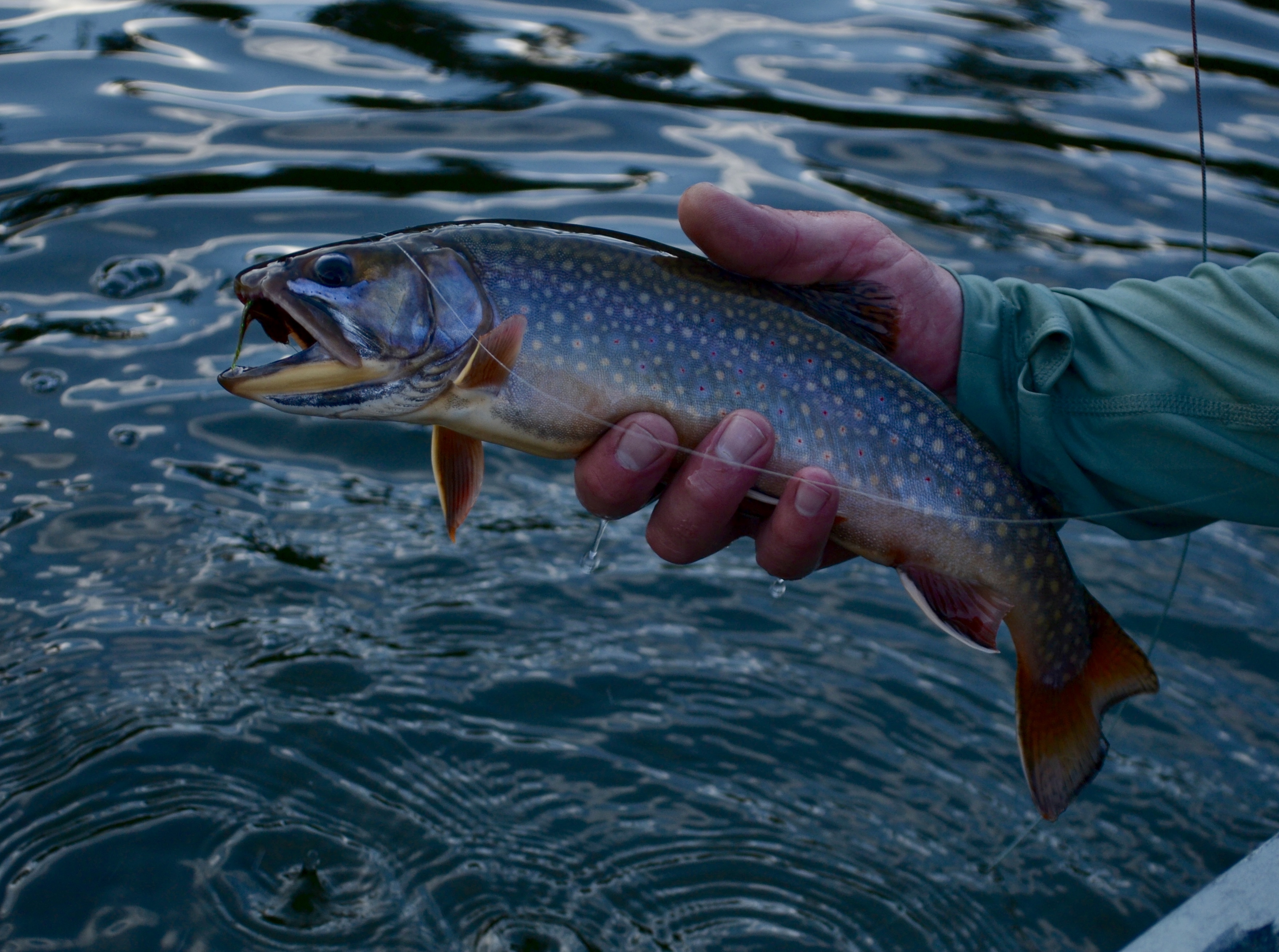 We  stayed out on the lake until the sun ducked behind the mountain and nature's AC kicked on. Jason continued to fish with success, but I called it a day so I could get some photos of the beautiful sunset. 
As  it started to get dark, we made our way towards the boat ramp and were swarmed by bats in the process. EEEEEEK! I mean, we like bats and all, but not at the jugular level! Needless to say both of us covered up while I squeal-quoted Goonies with, "Rabies! Rabies!" After holding on to the boat for what seemed to be an eternity while Jason got the truck, we quickly completed the usual departure prep in a relatively bat-free zone and headed home.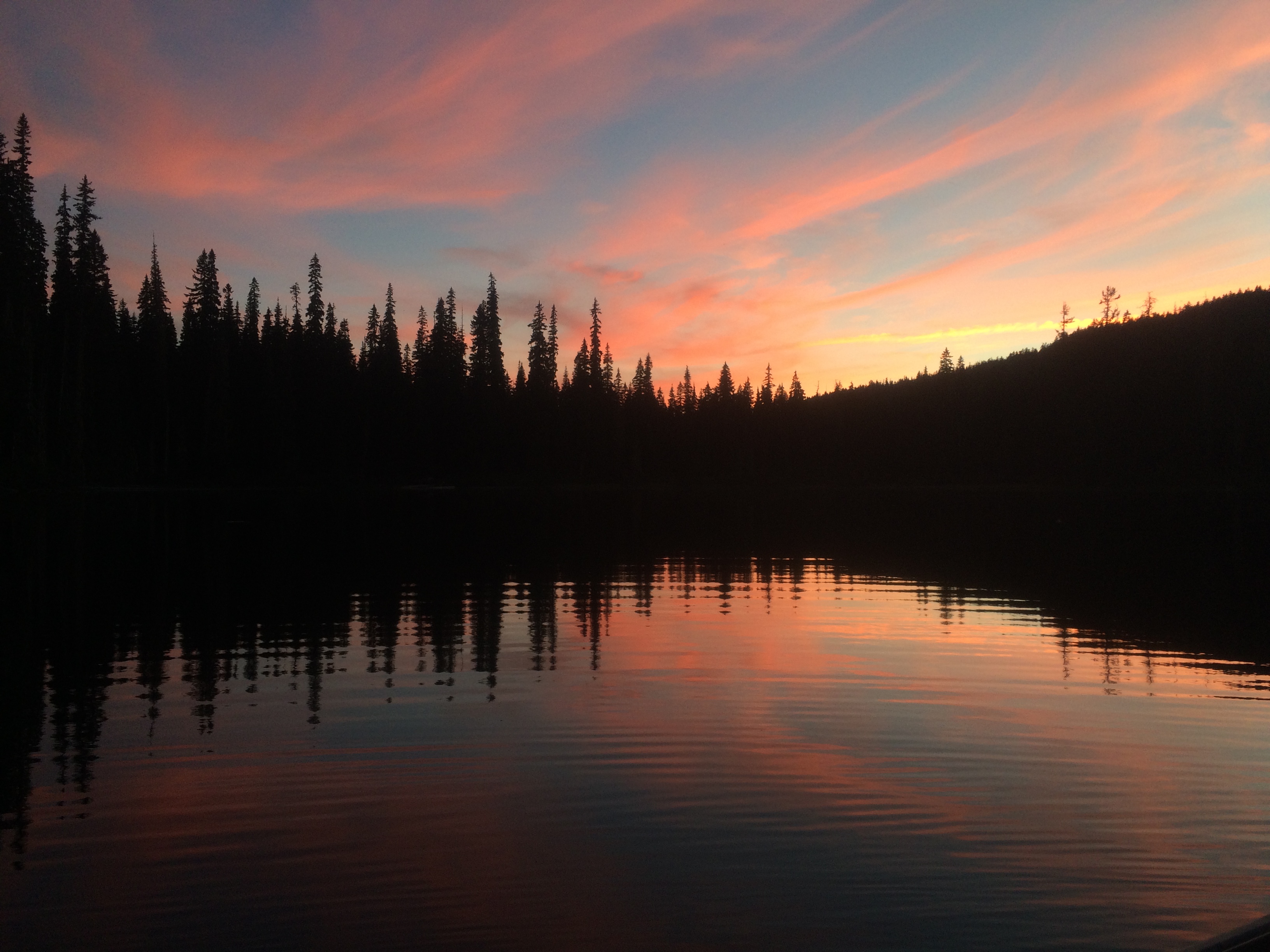 This may end up being our only trip to Gold Lake this summer. There's simply so much to explore within a close distance to Eugene, that it can be difficult to decide where to go next; a lake, river, south, east. The list of options goes on, much like choosing which Olympic event to watch. But one thing is for certain–our day on Gold Lake was a great opportunity to appreciate and reflect upon a truly golden summer.
Until next time….