Fishing Report May 5, 2023
Home Waters Fly Shop Fishing Report
May 5, 2023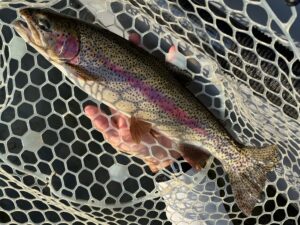 Overview:
The last two weeks have seen warmer weather and increased flows due to low snow melt in the mountains. Both the Mckenzie and Willamette have been running fast and high. Water clarity has become less of an issue moving into the weekend. Water flows have become more manageable as well. With improvements in these two areas, we expect this weekend to be great for fishing across the board.
Our best bets for tactics have been nymphs in the morning and through the bright hours of the day. While the bigger caddis hatches have yet to settle in, we are seeing some stoneflies out and about. Keep an eye out of these hatches in certain areas and have your dries ready to go when needed.
Finally, the salmon have started to their run. Daily counts over Willamette Falls are jumping by the hundreds. Now is the time to start thinking about those springers and the steelhead that are soon to follow.
McKenzie River:
Both the upper and lower river are still running high but clear. The increased flows are changing the river in terms of new channels opening up and older channels shifting. Keep your eyes open for trees in the river as the levels continue to drop.
For fishing, we have been having a lot of success with golden stone nymphs, chubby Chernobyls, and Missing Links in #10 and #12 when the fish are rising but we can't determine the hatch.
Middle Fork Willamette River:
Flows and clarity have improved over the week, but at levels remain high. This week the McKenzie River Guides pulled a capsized boat off the water. While no one was hurt, increased water levels and speed always carry more danger. Be aware of your surroundings and make sure to file a float plan.

 

As for flies, we've been using a lot of partridge and orange soft hackles and black stone nymphs. The caddis hatch has not materialized yet, but we have seen some solid evening activity for the dry
Lastly everyone in the shop has been swinging flies. Our go-to choices have been the pocket rocket, make it rainbow, and the sculpzilla #8 in olive.

 
Recommended Flies:
Dries
Wets
Nymphs
Swing Flies

Chubby Chernobyl #8, #10
Missing Link #10, #12
Green Caddis #10
Parachute Caddis #10, #12

Partridge and Orange
Soft hackle PMD #12-14
Dark and Light Cahill #10, #12

Iron Sally #12-16
Pat's Rubber Legs #6-8
Golden Stone #6, #8

Pocket Rocket #8 in Purple and Olive
Sculpzilla #8 in Olive and Black
Make it Rainbow