Fishing Report: May 20, 2022
Willamette Valley Fishing and Home Waters Fly Shop fishing report for May 20, 2022: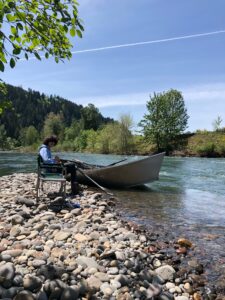 Overview:
The McKenzie River and Willamette River Valley finally looks to have a sunny weekend on the rivers. The National Weather Service is calling for clear skies and mild temps into next week. With temps ranging from the low 60s to the high 70s, both the McKenzie and Willamette watersheds should start to come into form.
Flows are dropping for both the McKenzie and Willamette. While wading is still a dicey option, by Sunday some areas should be manageable. Boat fishing remains the better option but the faster water surely means we'll be burning off that winter fat in new and exciting ways. Expect to back row more than normal. Try to find the soft water. Be mindful of anchoring, too. We've had reports of new timber down on the bottom that has been hanging up some anchors where previously there was no danger. If you plan on heading out, be sure file a float plan with someone, and to check the recently reported obstructions from the Oregon State Marine Board.

 

All our reservoirs (with the exception of Cougar) are fishable. The warmer weather will certainly work in our favor here. We've been fishing streamers along the drop off and getting into some top water bass action in the early evening. There are most likely still some spawners answering that mating call. Leave them alone. Find the fish that are ready to eat!

 

All in all, looks like we can put the bowling ball back in the closet there, Donny. It's time to pack a lunch and go fishing.

 
Middle Fork Willamette River:
Middle Fork Willamette from Oakridge to Black Canyon:

Water clarity is good and the levels are wadeable. Look to some late (and we mean LATE) march browns coming off. There is also caddis on the water as of 5/19. Dry fly action with the warmer weather is gonna be fun.
3720 cfs at the NF of the Middle Fork above Oakridge and remaining steady. Temps are rising making this ideal and fishable.
Dry flies (think Adams or Caddis until you figure out the hatch) along the fast seams are a good place to start. If you're a Euro-nympher or like to fish under a bobber, a heavy stone paired with a flashback pheasant tail should do the trick.

Middle Fork Willamette from Dexter Dam to Coast Fork Confluence:

Water clarity is good and turbidity is down. We've seen a few bobber doggin' dudes (you know the kind…) landing some steelhead and springers right below the dam. We are not at battle fishing stages yet, but the time is coming. Good news is: the bigger fish are in and ready to take. Go and catch yourself a unicorn.
Flows at Dexter Dam are at 4450 cfs and remaining steady. That's normal for this time of year.

 

The run from Jasper to Pengra should fish. Look for new timber down in the area and watch where you anchor.

 

The gage at Jasper has flows at 5510 cfs and remaining steady. This is great news. That's swing water baby! Jasper Bridge down to Clearwater should be in ideal form. Time to get the old two hander out and remember how that spey thing works.
Middle Fork from McKenzie Confluence up to Marshall Island

Armitage is at 9680 cfs, which is above normal. The water is dropping by 200 cfs/hour. We recommend giving this stretch the weekend. Starting Sunday it should come into form for fly fishing. Gear anglers and sled boaters are gonna have the full advantage right now.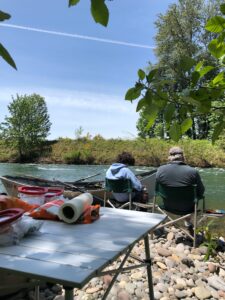 McKenzie River:
Below Leaburg Dam:

Water clarity is good and the flows are dropping. The most productive fishing has been big, heavy stone fly nymphs in the deeper, softer water. With water temps rising and the flows dropping expect this to change. Fish will start moving up the water column and actively feeding. Be ready to switch to a dry fly (green caddis) when the mood strikes.

 

Flows below Leaburg are at 7780 cfs. This is much above normal making boating the better but in that area. There is a slow drop in flows (50 cfs/hour). Whether or not that holds through the week given the low snow is a different story.
Walterville is at 5650 cfs. That classifies as "above normal" for this time of year. The flows are dropping here, too, by 90 cfs. The river speed is up but clarity is in our favor. This is the range of the river where the dries are in play.
Lastly, both Hayden and the Mohawk River are listed as "above normal" and "much above normal" with flows at8360 cfs and 904 cfs respectively. That makes wading at Armitage a challenge and with the Mohawk humming, water clarity is not the best. Still fishable, but a little more challenging.
Reservoirs we Fish:
For those interested parties, here are the current levels of our local reservoirs:

Hills Creek: 84% full
Lookout Point: 59% full
Dorena: 98% full
Cottage Grove: 100% full
Fall Creek: 83% full
Fern Ridge: 99% full