Fishing Report for May 5, 2022
Willamette Valley Fishing and Home Waters Fly Shop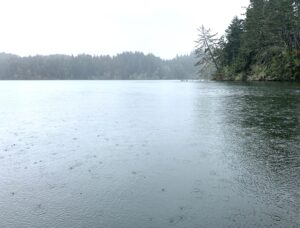 fishing report for May 5, 2022:
Overview:
The McKenzie River and Willamette River Valley has a storm system moving through the area this weekend. The National Weather Service is calling for over 2" of rain through the weekend with possible thunderstorms moving in on Monday. With rivers already swollen, flows will most certainly increase making already tough fishing conditions even more challenging.

 

Boaters should expect debris in the water. If you plan on heading out, be sure file a float plan with someone, and to check the recently reported obstructions from the Oregon State Marine Board.

 

Wade fisherman should also expect tough, even dangerous conditions. Again, if you are heading out, make sure to leave an itinerary with someone and don't deviate from that plan.
Reservoirs are fishable, and most likely the safest bet until the thunderstorms roll in.

 

All told, looks like this is a weekend for tying flies and cleaning up gear rather than fishing.
Middle Fork Willamette River:
Middle Fork Willamette from Oakridge to Black Canyon:

In general, water clarity is decent. However, increased rain and tough conditions have certainly turned off the bite until the weather settles down. Best bets in this stretch are going to either euro-nymphing close to the bank in softer water or ripping streamers up the bank.

 

4,440 cfs, remaining steady (but we expect that to rise in the next 12 hours)
Water levels are high and fast. Expect tough, wet conditions. At these levels, wading is neither optimal nor safe.

 

Middle Fork Willamette from Dexter Dam to Coast Fork Confluence:

In general, the water clarity is decent until getting down river from Coast Fork. Last week it fished relatively well with nymphs and streamers. Water temps are rising and there was a small caddis hatch with a few fish taking the dry. However, rainy conditions and rising river levels are going to have a damaging effect over the weekend.
Flows at Dexter Dam are listed as "Much Above Normal" for this time of year. At 4,880 cfs and rising, the run from Dexter to Pengra will not fish well.

 

The gage at Jasper has flows "Much Above Normal" for this time of year. At 6,180 cfs and rising, this area is also going to be tough.

If there is a bright side, it's that the water clarity is still relatively good. Also, the rain soaked rivers and increased flows should provide some help to early springers and summer steelhead that are making their way into the system.

 

Finally, with the notoriously muddy Coast Fork running at 3,070 cfs with more rain on the way; anything down river from that confluence is going to be both blown and turbid.

 
McKenzie River:
Below Leaburg Dam:

In general, water clarity is down, turbidity is up, and there is debris in the water. Fish have gone down deep or are staying in closer to the softer water along the edges. New debris in the river is more likely than not making fishing from the boat, and even anchoring up more of a challenge than normal. Last week it was fishing well with fish coming up for the dry. Once the current system passes, start to look for the green caddis coming off. Right now, if we are going out (and that is a HUGE if), we're thinking nymphs where we can, and maybe swinging some soft hackles through the softer water—if we can find any!
Flows below the dam are listed as an "all time high for this time of year" at 8,330 cfs. This is neither safe nor fishable.

 

Walterville is at 6,400 cfs. That classifies as "much above normal" for this time of year. Again, those flows making fishing conditions tough.

 

Lastly, both Hayden and the Mohawk River are listed as "much above normal" with flows at 8,900 cfs and 941 cfs respectively. The Mohawk is the culprit here, mudding the waters down from the confluence and generally leaving us all to wait until things settle down on the weather front.

 
Reservoirs we Fish:
Given the weather systems effects on the rivers, we think reservoir or lake fishing is the best bet if you need to scratch that fishing itch. Granted, it will be wet out there, but with the right rain gear through the weekend, you could potentially have a lake all to yourself.
Expect the fish to be moving down in the water column. The sharp transition from a warm two days back to a colder stretch will most likely throw off the bite for a day or two. Given the conditions, look for reaction strikes by slow stripping streamers along the drop-off deep. Also, think about fishing chironomids deep under a bobber. Yeah, we know, it is not the fanciest way to do things, but it sure does get the job done!
For those interested parties, here are the current levels of our local reservoirs:

Hills Creek: 41% full
Lookout Point: 61% full
Dorena: 92% full
Cottage Grove: 91% full
Fall Creek: 36% full
Fern Ridge: 97% full